After having written a relatively bearish article on Independence Realty Trust (NYSEMKT:IRT) back in August 2016, I am today turning bullish on the name.
As I explained in my initial article, my main concerns for IRT have always been its balance sheet and management structure. Both had issues and as such, I felt that a discounted valuation was warranted. Since then, the stock price has decreased slightly, but the company has greatly improved.
Back in 2016:
The balance sheet used to be much more leveraged and had high exposure to floating rates.
The management was external and had a history of associated conflicts of interests.
Today, however the capital structure has been greatly reinforced and the management has been internalized. While you would expect these actions to result in share price appreciation given the reduced risk, this just hasn't happened yet: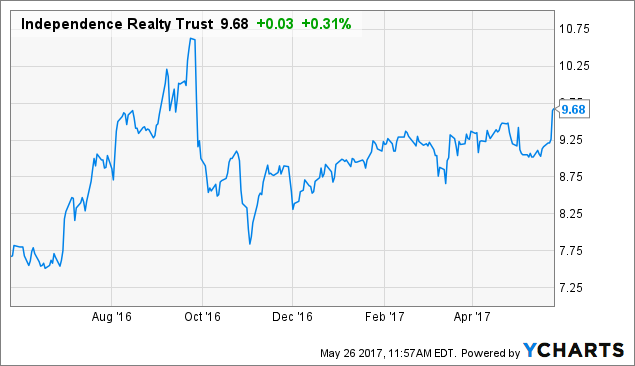 IRT data by YCharts
Since my last article, the share price is flat despite the now improved fundamentals. The market seems to have overlooked the significant transformation that has occurred in the last 8 months and in this sense, I believe that IRT is underpriced today.
The main problems have now been solved, yet the valuation remains compelling at only 12.5 times FFO and a 7.5% yield.
About Independence Realty Trust
IRT is an apartment REIT that owns today a total of 48 properties in 21 different markets and is well diversified geographically across the Midwest and Southeast. The REIT seeks to own multifamily properties in specific markets that it believes to possess strong fundamentals for residential investments. The targeted markets will typically have stronger than average demographics that results in high occupancies, rental rate growth and possibly future cap rate compression.
The strategic focus of the portfolio is put on Class B/B+ properties which constitute today about half of the portfolio.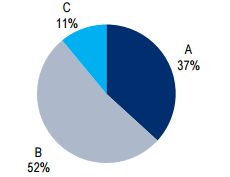 Source: IRT
Class B properties are typically 10-20-year old constructions, have external and interior amenity packages that start to be dated and are generally less attractive than the amenities offered by newer properties. This does not mean that these properties are necessary riskier or in bad shape; they are just older and likely to have a lower growth profile.
Each grade of multifamily properties has their own positives and negatives, but overall the Grade B properties remain attractive, especially in today's economic environment.
The main selling point of class B properties is the lower rent compared to newer properties despite being fairly competitive from a qualitative perspective. In general, despite being older properties, they are well maintained, comfortable, clean, and so the occupants get a good value compared to newer properties.
This is especially true in times of economic uncertainty. They are in my view some of the least risky real estate assets available as they are fairly defensive in case of a recession. At the end of the day, everybody needs to live somewhere and in case of lower occupancies, the property owner needs just to lower rates to attract new renters. As such, the demand for apartments tends to be less cyclical than the demand for office or retail space for instance. Grade B apartment properties are particularly well suited to sustain difficult times as they remains affordable and renters from Grade A often downgrade to Grade B properties; supporting the demand side of the equation. Moreover, homeownership rates have been in steady decline due to a shift in consumer preference and I do not expect to change.
This is the main point that I like about the portfolio: it owns a well-diversified portfolio of Grade B Multifamily properties that I believe to be relatively resilient compared to many other property types. I don't expect any material change in the demand for the these properties and I believe that the demand will remain there regardless of economic conditions. Of course there will be times where the market gets overbuilt and rents have to be lowered, but overall the demand for apartments will remain high as everybody needs to live somewhere.
An Improved Balance Sheet and Management Structure
Not a long time ago, this is how the balance sheet would still looked like: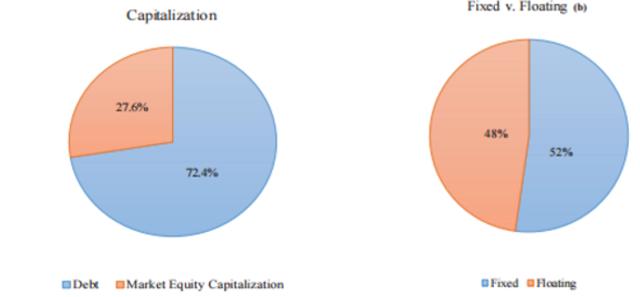 Source: IRT article
This was scary to many investors including myself and rightfully justified a discounted valuation in my opinion. If interest rates would have started to materially move upward, the REIT could have had issues refinancing its debt given the tighter coverage ratio and decline in property value that may occur when interest rates go up.
Today, the capital structure is greatly improved as a result of a recent equity capital issuance and a continued focus on deleveraging: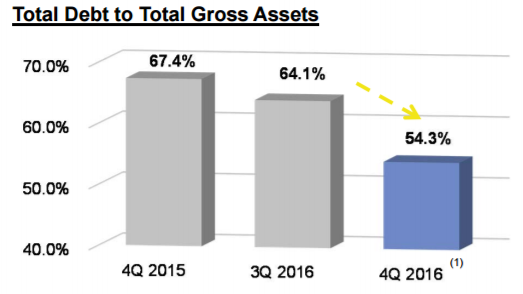 Source: IRT
The loan to value (LTV) has been reduced to a much more reasonable level and the floating rated debt has been swapped into predominantly fixed rate debt. This lowers the risk profile of IRT substantially and should be perceived favorably by shareholders.
In addition to the capital structure improvement, the management finally made the decision to internalize in late 2016. The external management agreement has always been a drag on the stock as it increases the cost of management and may cause conflicts of interests. Investors want to be compensated for the higher risk and therefore, once again, a discounted valuation was justified.
Now that the REIT is internally-managed, the management expense and conflicts has been materially reduced. Nobody is earning " fees" anymore, and this is a great plus in my view.
IRT recently announced its first quarter as an "internally managed" REIT and the results were encouraging. Core FFO per share was down as expected due to the recent issuance in shares, but more surprising to me was how well the properties performed. Same store rental income was up over 4% and the NOI was up 5.2%. The portfolio occupancy was also increased by 1% to 93.9%; demonstrating good demand for the apartments. The REIT also closed on a new $ 300 million unsecured credit facility, refinancing previous one.
The Discount to Peers Appear Excessive
Because of the relatively "lower risk" profile of residential real estate, it is common for these properties to trade at below average cap rates in the private market and above average FFO multiples in the public REIT market: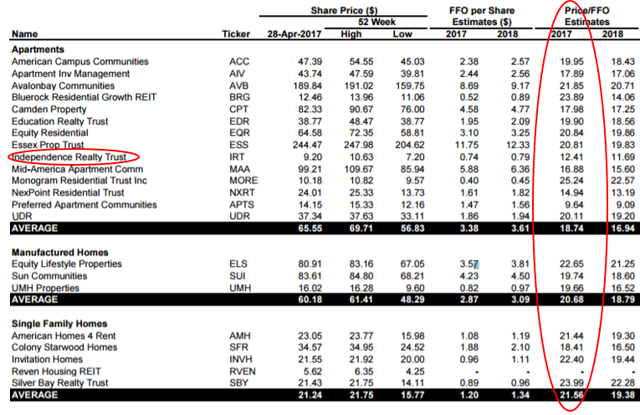 Source: NAREIT
The above table is provided by NAREIT and shows the average FFO multiples paid for residential REITs today (circled in red). Apartment REITs trade at 18.74 times expected 2017 FFO and many high quality names including Avalonbay (NYSE:AVB), Monogram (NYSE:MORE), Equity Residential (NYSE:EQR) and Essex Property (NYSE:ESS) trade at multiples in excess of 20 times FFO.
In comparison, IRT sells today for approximately 12.5 times FFO which is a very significant discount to the peer group. IRT still remains a below average quality REIT in my view and in this sense, it does deserve to trade at a discount to peers; but the valuation gap appears to large here.
Given the lower valuation, IRT is also one of the highest yielding residential REITs. The 7.5% dividend yield is significantly above average, but expected to grow at a smaller pace than its peers. The payout is very tight today and barely covered by FFO, but the management has indicated that it is not anticipating any dividend cut.
As such, what really makes this REIT a buy is the combination of the high dividend yield and relatively resilient asset base in my opinion. I do not expect IRT to trade in-line with its peers, but at current levels, I believe that IRT has some potential for FFO multiple expansion. This would result in upside in addition to the already high dividend yield.
Final Thoughts
IRT is an apartment REIT that has a history of operational issues including overleveraged and conflicts of interests. Yet, today many of these issues appear to be solved and the REIT deserves a valuation multiple closer to its peers.
Grade B multifamily properties are particularly well suited to sustain times of economic hardship as they remain affordable and renters from Grade A often downgrade to Grade B during recessions. Everybody needs to live somewhere, and at the current share price, I am turning bullish on IRT.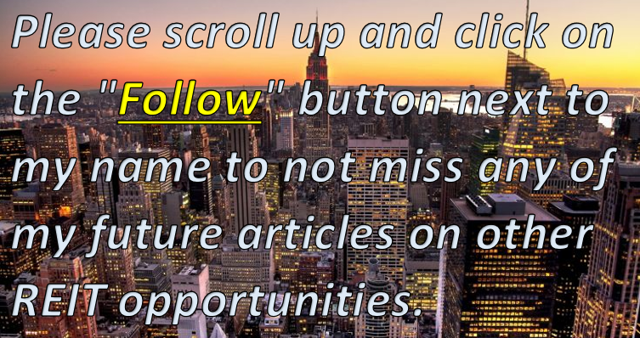 Disclosure: This article is for informational purposes only. It is not a recommendation to buy or sell any security and is strictly the opinion of the writer. Readers are expected to conduct their own due diligence or seek advice from a qualified professional.
Disclosure: I/we have no positions in any stocks mentioned, but may initiate a long position in IRT over the next 72 hours.
I wrote this article myself, and it expresses my own opinions. I am not receiving compensation for it (other than from Seeking Alpha). I have no business relationship with any company whose stock is mentioned in this article.